Overview:
LC wifi remote control switch module increase function based on the original switch that can through mobile phone and voice smart control home appliances on device . Single fire wire wifi switch Only one fire wire goes in and out ,no need for neutral line, achieved intelligent control of lamps and electrical switches. Built-in memory chip, ultra high stability,Even stop the network,still working on time in time . support voice control, mobile control ,remote control ,use smart and convenient.
Function:
1. Update the current power status in real time
support status feedback.feedback of the current state of use of the appliance in real time. Even leave home don't worry device whether off.
2. Smart cloud control,support control multiple devices with one mobile, support a mobile phone can control multiple module and multiple module can be control by one phone ,can share to achieve multiple control use.
3.support voice control module
support tianmao jingling, Google Home voice control,no need for gateway host, direct voice control.
4. use wechat Applets or APP smart control
using ewelink app log in ewelink app account carry on device control,wechat seach ewelink ,found the Applets to operate.
5. smart timing delay function
set auto open time or close time,multiple combinations, multiple sets of timing customized follow your heart.
6. super remote control, one-click control mobile phone remote control is no longer a problem from distance control the device with app in anywhere and anytime, only you mobile have 2/3/4G signal all be control
7. Set the original switch use
Set the original switch,mobile phone no power,no internet or don't know how to use, don't worry ,original switch can do it.
Module introduction
size: 85.5*85.5mm
Weight:70g(have shell)
Product picture: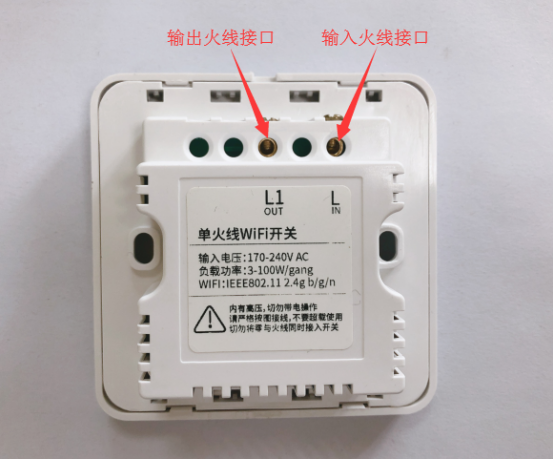 L/IN: input wire line interface
L1/OUT : 1ch output wire line interface
Specification:
input voltage: 170-240V AC
Load power: 3-100W/gang
Wifi standard:2.4G b/g/n
Power status : Default power off (can be set to on)
external material:fireproof retardant material
Software connection method
1.Search the"eWeLink"App on the market to download and install .
2.long press manual button, the green indicator flashing on module about 7s later
3.open ewelink app,click "+"icon and add it ,click next step ,input mobile phone wifi account and password(The connected WiFi frequency should be 2.4G),click next,mobile and device close to router wait a moment,then named for the module ,like bedroom light.
4.if you have network you can control it after added device . module switch status,mobile phone will feedback at the same time.
Install suggestion
Please do not take power with installing it. Please turn off the power before installation.
This product is single fire wire switch, don't need to connect the neutral line, so do not connect the neutral line and the live line at the same time.