Ewelink 4CH switch module DIY MCU dev of conversion board
Sku :LC-EWL-B04-MB
LC ewelink remote control relay 4 channel switch module DIY MCU development of conversion boards voice control .
Overview
LC ewelink 4channel switch module will lead out the four-way output and four-way button of the ewelink PSF-B04 module,for convenience connect MCU development .powerful of function, support voice control,mobile control .remote control ,using smart and convenient
Function:
1,Smart cloud control,support control multiple devices with one mobile, support a mobile phone can control multiple module and multiple module can be control by one phone ,can share to achieve multiple control use.
2,support voice control module
support tianmao jingling, Google Home,Alex voice control,no need for gateway host, direct voice control, voice control directly .
3,support wechat Applets or APP smart control
using ewelink app log in ewelink app account carry on device control,each ewelink and found the Applets to operate on wechat .
4. smart timing delay function
set auto open time or close time,Multiple modes, multiple sets of timing,appoint date customize follow your heart
5, super remote control,mobile phone remote control no longer is a problem control the device with app in anywhere and anytime, only you mobile have 2/3/4G signal all be control.
6.Additional serial port pins available for firmware burning
Hardware introduction and description
board size :30*24mm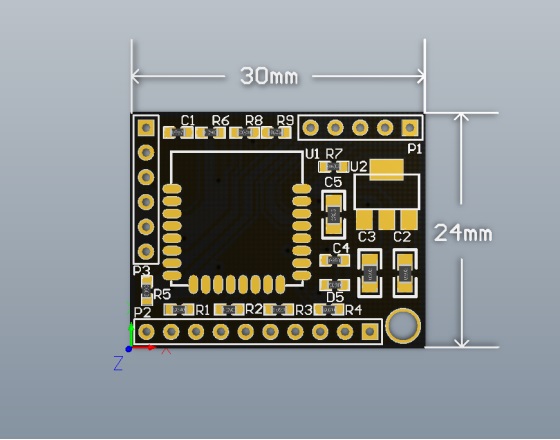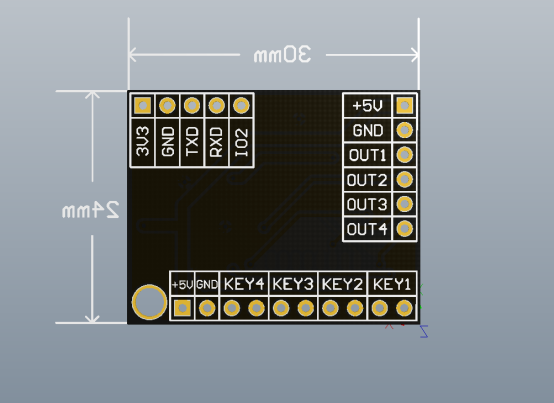 Power supply instruction : this module adopt 5V DC power supply,can use to mobile phone chargers, charging treasures, and computers etc. usb power of supply devices .
Input description:can external connection 4 channel machine button going control. Also can connect Wet contact signal going control(voltage not over 3.3V) switch press one time open,press again one time close (note is button not switch):each "KEY" is a combination of input pin and GND,The right pin of each "KEY" in the bottom view is GND
Output description : output 4channel high level signal, when open is high level,when close is low level , so suggest use high level relay module
network description: mobile connecting router,download ewelink app ,power on module,long press any button(That is: make any key in KEY1-KEY4 shorted to GND)about 5S,indicator light quick flash ,at this point, the module enters the match network mode. Open ewelink APP press "+"button add device ,can use mobile remote control after add success. For the specific match network steps please follow the tips of the ewelink APP.
Appendix: Description of Wi-Fi Status Light Blinking Mode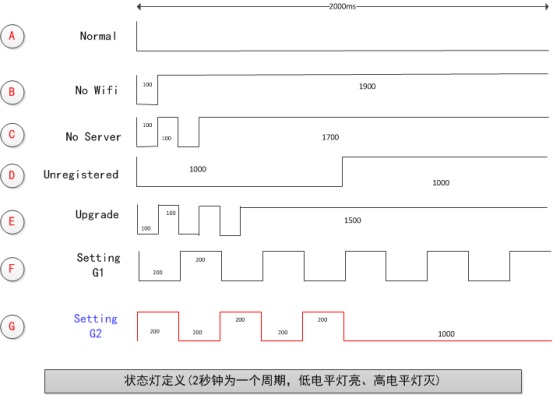 The cycle of the WIFI status light is 2S,as the above pictures,the light will on when the low level.
the light will off when the high level. The details for each status as below:
A. Normal : the connection between the device and cloud service is ok and device is normally, you can control the device with APP. In any other modes, can't control device through APP .
B. No Wifi: the device can't connect to your router.
C. No Server:the device have connected to your router, but can't connect to the server (It's usually " can't go Internet")
D. Unregistered:Indicate that the device has not been bound to any account yet, normally ,The device needs to be bound to the ewelink CoolKit account to communicate with the cloud server.
Add device in ewelink APP, can finish to bound operation.
E. Upgrade: Indicate the device is updating firmware.
F. Setting G1:Indicate the WiFi module on the device in AP mode. This mode will help the device connect to the network ,such as obtain router ssid,password and IP . port number.etc.|
G. Setting G2:Indicate the WiFi module on the device in ESPTOUCH mode. This mode will help the device connect to the network ,such as obtain router ssid,password and IP ,port number.etc.|