Arduino Raspberry mcnamara wheel smart car
LC Arduino mcnamara wheel SMART CAR

sku :LC-Smartcar-PCB-MW-PS2 (with PS2 remote control)
sku :LC-Smartcar-PCB-MW (without remote control)

I. Overview
LC Arduino Mecanum wheel car adopts PCB with mechanical strength superior to acrylic as the chassis of the trolley, Arduino UNO as the main control MCU, with 4-way H-bridge L298N motor drive module and Mecanum wheel.
It can comply conventional forward, reverse, turn and horizontal tire translation functions .
It is suitable for group programming practice of electronic enthusiasts and students, making programming full of fun!

Function:
PCB chassis parameter
1.1 support install Arduino UNO R3 development board
1.2 support install Raspberry 2B/3B/3B+/4 development board
1.3 support install DC3-6V TT DC geared motor, with motor clip, easy and reliable assembly
1.4 with two 18650 battery case install location
1.5 with our shop L298N 4-way motor drive module installation location
1.6 Support install SG90 and camera PTZ
1.7 Support installation of various sensors, such as infrared obstacle avoidance, infrared tracking, ultrasonic obstacle avoidance module, etc.
1.8 chassis size: 263*150mm。

Arduino UNO parameter
2.1 Microcontroller :ATmega328
2.2 working voltage: 5V;
2.3 Number of digital I / O pins: 14 (6 of them provide PWM output);
2.4 the number of analog I / O pins: 6
2.5 Flash Memory:32KB 0.5KB of which is occupied by the boot loader
2.6 SRAM:2KB;
2.7 EEPROM:1KB;
2.8 Clock speed: 16MHZ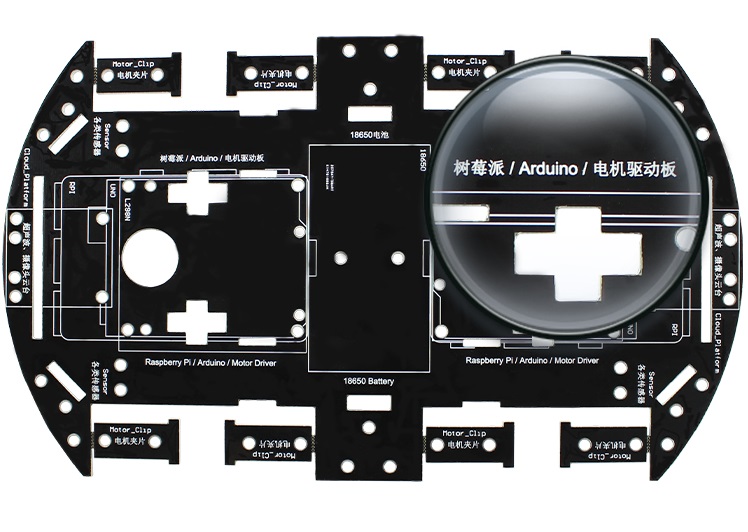 L298N motor driver board:

3.1, driving IC: 2 dual H-bridges L298N, can drive 4 DC motors to achieve forward rotation, reverse rotation, and braking functions;

3.2, driving voltage VSS1 and VSS2: 5-30V (default 5V);

3.3, on-board high-current 5V voltage regulator chip LM2596-5.0;

3.4, logic voltage: 5V;

3.5, power supply voltage: 6-30V limit, 7-12V recommended;

3.6, single bridge maximum drive current: 2A;

3.7, maximum total output power of 4 H-bridges: 50W;

3.8,on board 4 channel 5V pin headers and 1channel USB 5V power output ;

3.9, onboard 3 channel 5V servo interfaces;

4.1, 2pcs L + 2 R Mecanum wheels;
4.2, Size: Inner diameter: 6.5mm, Outer wheel diameter: 80mm, Thickness: 37mm
5. Function introduction:

5.1, forward, backward, turn, horizontal movement;

5.2, Ultrasonic obstacle avoidance, infrared obstacle avoidance, infrared tracking, PS2 controller remote control (optional);

5.3, you can add more sensors for DIY

hardware introduction and description
1. Component introduction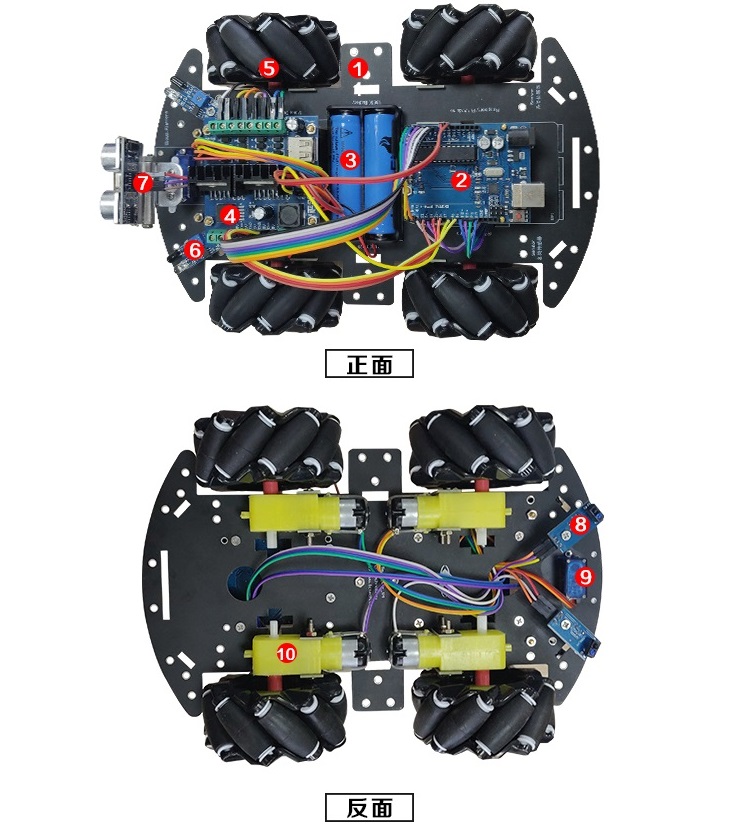 1. PCB chassis;
2. Arduino UNO R3 main control MCU;
3, 2 rechargeable 18650 batteries (not include );
4, L298N motor module: can drive 4 motors forward, reverse, stop;
5. Mecanum wheels: including 2pcs R wheels + 2pcs L wheels, which can achieve horizontal movement;
6. Infrared obstacle avoidance module: When the obstacle is detected, the indicator light is on and outputs low level;
7, HC-SR04 ultrasonic ranging module: used for ultrasonic obstacle avoidance;
8. Infrared tracking module: When the tracking vehicle presses the black line when the tracking module is pressed to the black line, the indicator lights and outputs a low level, so that the vehicle makes corresponding attitude adjustments;
9, SG90 steering gear: used to support the ultrasonic module;
10, DC3-6V DC deceleration TT motor.

11. In addition, also supports connecting the PS2 handle remote control . If you have demand can purchase it.
note :due to shipping not covenient ,so accessories do not include 2 knots 3.7V 18650 batteries and chargers, need purchase in your local market .