SIM7600CE-L Full Netcom 7 Mode 4G/3G/2G SMS Internet Raspber
Date:2019-01-23    Views:
The LCTECH SIM7600CE 4G development board is equipped with SIMCom original SIM7600CE full Netcom 4G module, LTE CAT4 (up to 150Mbps), low power consumption; support for voice calls, Chinese and English text messages, 2G/3G/4G data communication, GNSS positioning, SD card data storage; can also be directly used as a 4G wireless network card for Raspberry Pi/PC.
2, Features
1, Overview
●On-board full Netcom SIM5600CE 4G module and self-elastic SIM card holder, support 1.8V/3V type Micro SIM card of operators such as China Mobile/China Unicom/China Telecom;
●Support dial-up Internet, phone, SMS, MMS, mail, TCP, UDP, DTMF, HTTP, FTP and other functions;
●On-board audio decoder chip and four-part form 3.5mm headphone jack;
●On-board 2*20P Raspberry Pi interface for Raspberry Pi surfing/watching videos, etc.Compatible with Raspberry Pi Zero/Zero W/Zero WH/2B/3B/3B+;
●On-board USB to TTL CP2102 serial port chip, convenient for UART serial port debugging;
●On-board 8 channel TXS0108E level shifting chip;
●Support baud rate range: 300bps--4Mbps (default 115200bps),
support baud rate adaptive range: 9600bps--115200bps;
●Native USB interface for 4G module, can be used for AT command debugging / 4G wireless network card / GPS positioning, etc;
●Support GPS, BDS, Glonass, LBS base station positioning;
●On-board TF card slot for storing files, text messages, etc;
●On-board power light and module working status indicator;
●Power supply voltage: 5V, VBAT end have large capacity 1000uF tantalum capacitor to ensure stable operation of the module;
●Support for SIM Application Toolkit: SAT Level 3, GSM 11.14 Release 99, USAT.
2,2G/3G/4G parameters:
LTE
WCDMA/TD-SCDMA/ CDMA 2000
EDGE
GSM/GPRS

Band

LTE-TDD B38/B39/B40/B41
LTE-FDD B1/B3/B8

UMTS/HSDPA/HSPA+ B1/B8
TD-SCDMA B34/B39
CDMA 1X/EVDO BC0

GPRS/EDGE 900/1800 MHz




System

4G

3G

2.5G

2G




Transmit Power

0.25W

0.5W@EGSM900
0.4W@DCS1800
2W@GSM900
1W@DCS1800


Data transfer

LTE CAT 4
Up≤50 Mbps
Down≤150 Mbps
UMTS
Up≤384Kbps
Down≤384Kbps

HSPA+
Up≤5.76Mbps
Down≤42Mbps

TD-SCDMA
Up≤128Kbps
Down≤384Kbps
TD-HSDPA/HSUPA
Up≤2.2Mbps
Down≤2.8Mbps

CDMA2000/EVDO
Up≤1.8Mbps
Down≤3.1Mbps

EDGE
Up≤236.8kbps
Dow≤236.8kbps
GPRS
Up≤85.6kbps
Dow≤85.6kbps

Type of SIM card

Micro/Nano SIM

Applicable area

Most countries and regions
3, GNSS parameters:
3.1. Receive
●16 Channels
●C/A code
3.2. Sensitivity
●Trace: -159 dBm (GPS) / -158 dBm (GLONASS) / TBD (BDS)
●Cold boot: -148 dBm
3.3. First positioning time(Open area)
●Cold boot: <35s
●Hot boot: <1s
3.4. Precision
●Accurate positioning: < 2.5m CEP
4, SMS and Audio parameters:
4.1. SMS
●Support: MT,MO,CB,Text,PDU
●SMS storage device: USIM card and ME (default)
4.2. Audio
●Support echo cancellation
●Support noise suppression
3, Hardware Introduction
1. Board size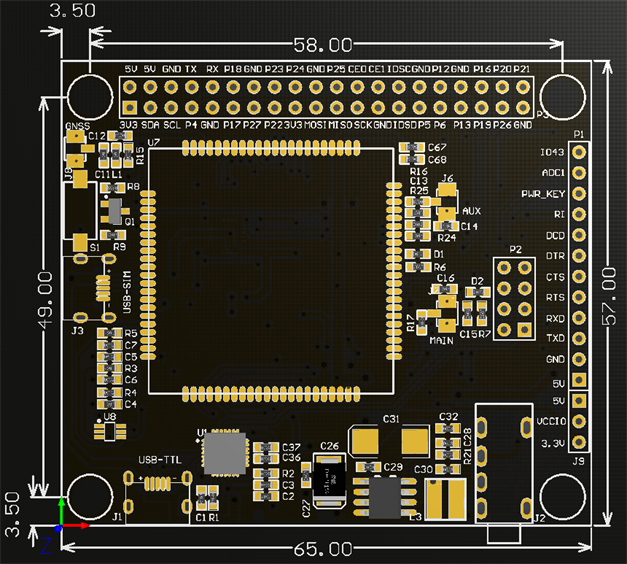 2. Sources description:
The LCTECH SIM7600CE Full Netcom development board contains 2 versions: full version and pure data version:
2.1. Full version: Equip with SIM7600CE-T full Netcom module, support 4G Internet access, voice call, SMS, GNSS positioning, SD card storage, Raspberry pi interface, etc.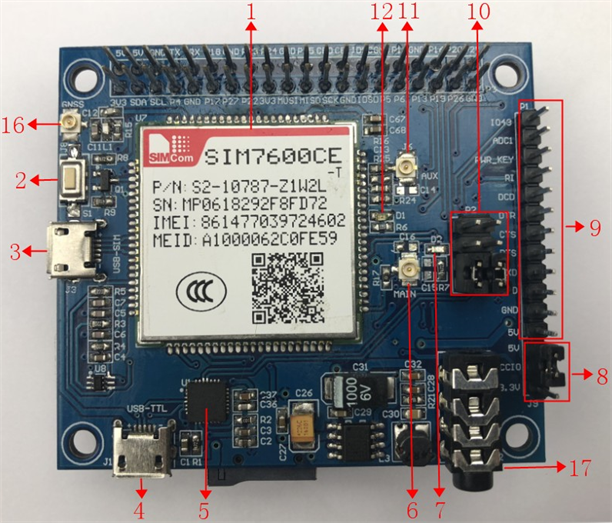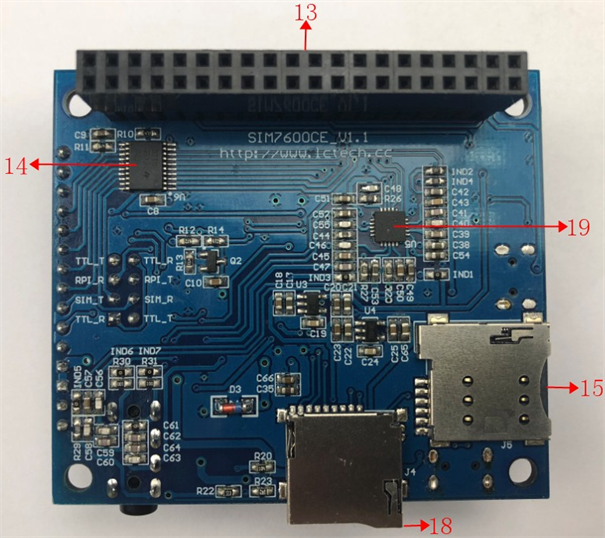 2.2. Pure data version: Equip with SIM7600CE-L full Netcom module. Less voice calls, GNSS positioning, SD card storage functions than the full version.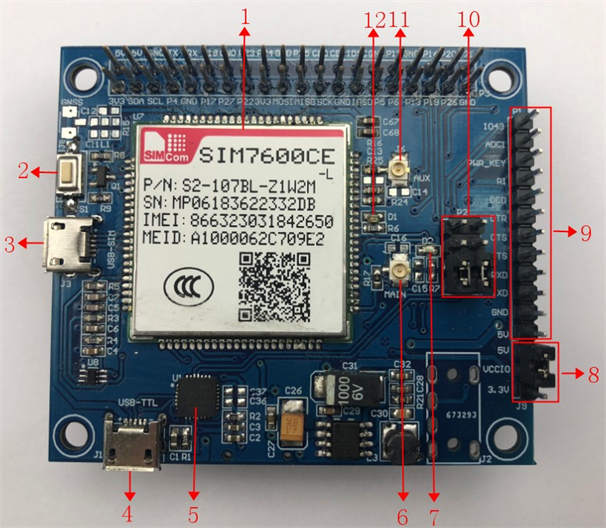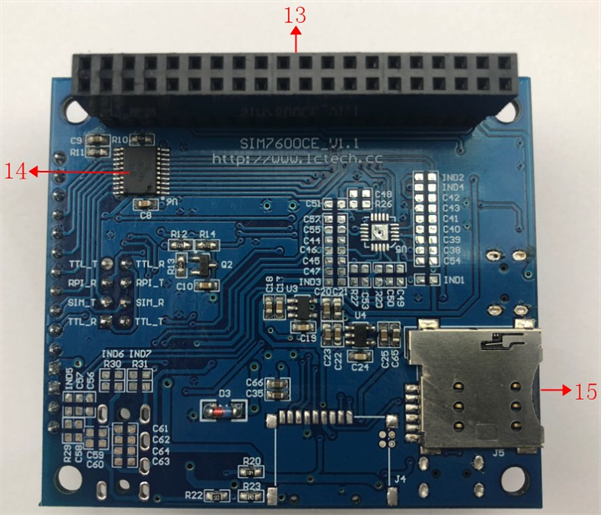 2.3. Chips and interfaces description:
1, SIM7600CE-T/SIM7600CE-L module
2, Power key: Press for 1S, and wait about 10S, the NET indicator on means power on successfully
3, Native USB port: Can be used for AT command testing, GNSS positioning and 4G internet surfing, etc
4, USB to UART port: Connect to CP2102, can be used for AT command testing or external UART devices debugging
5, CP2102: USB to UART chip
6, Main GSM antenna IPEX socket
7, Power indicator
8, Jumper for external MCU level selection
9, External MCU UART interface
10, Jumpers for UART combination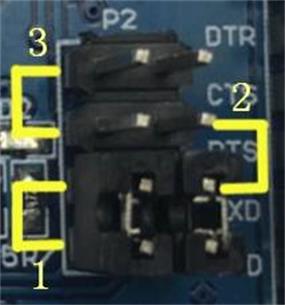 3,Raspberry Pi---CP2102
2,SIM7600---Raspberry Pi
1,CP2102---SIM7600
11, AUX GSM antenna IPEX socket
12, NET status indicator
| | |
| --- | --- |
| NET LED status | Module's working status |
| On all the time | Searching net/Calling |
| 200ms ON/ 200ms OFF | Date connected |
| 800ms ON/ 800ms OFF | Net registered |
| OFF | Power off/Sleeping |
13, Raspberry interface: Compatible with Raspberry Pi Zero/Zero W/Zero WH/2B/3B/3B+
14, TXS0108EPWR level shifting chip
15, Micro SIM socket
16, GNSS positioning IPEX socket: Support GPS, BDS, Glonass, LBS base station positioning
17, 3.5mm Earphone/Mic socket: Applicable to Apple serials or other, the definition as below: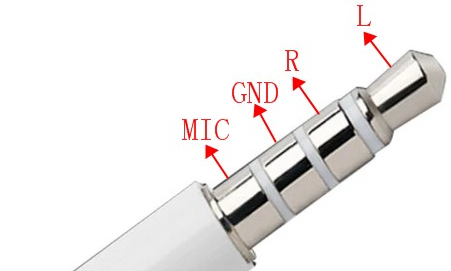 18, TF/Micro SD card socket: Can be used for files, SMS storage
19, NAU8810Audio decoder chip
***For more details, please refer to our data link