USB to GSM Serial Port GPRS SIM800C Module
Date:2019-01-22    Views:
1. Overview


LC-GSM-SIM800C-2 USB to GSM is a quad-band GSM/GPRS module with stable performance, compact appearance and high cost performance, which can meet the various needs of customers. Integrated USB to serial port chip, you can plug directly into the computer to debug. The SIM800C operates at GSM/GPRS 850/900/1800/1900MHz which support to be used worldwide. It can transmit voice , SMS information and data information with low power consumption, and can be applied to different design requirements of many compact product.
2. Functional characteristics
1. On-board original SIM800C GSM/GPRS module;
2. On-board CH340T USB to serial port chip, easy to install and high compatibility;
3. Self-elastic SIM card slot design, can be used on China Mobile and China unicom 2G/3G/4G Micro SIM and Nano card;
4. The module is powered on automatically to connect to the network, no need to press the button to power on, saving time and more convenient.
5. Support SMS messaging and provide management software;
6. Provide full set instruction of host computer source code (c#, vb) for reference.
7. Support GPRS data transmission under 2G network, which can be applied to mobile meter reading and other occasions;
8. Support Bluetooth data transmission, IEEE802.15 Bluetooth standard, 2.4GHz working frequency band;
9. Support adaptive baud rate;
10. It is with LED indicator, when there is no network, no SIM card or SIM card is inserted, the LED light flashes quickly in 1 second interval, and it flashes every 3 seconds if normally work.

1. Hardware Introduction
Size: 27*50.7mm
Function Details:

1. Interface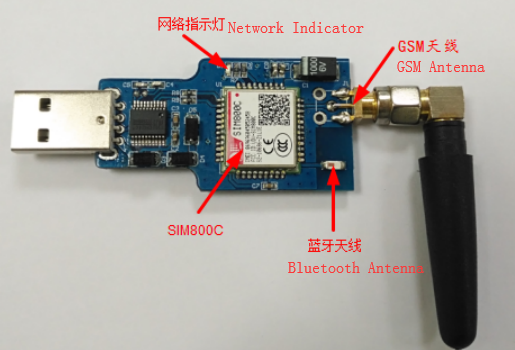 1. Instruction
Connect the module to the 2.4GHz GSM antenna and insert the SIM card (Notice: support Micro/Nano card, support China Mobile or China Unicom mobile phone 2G/3G/4G card, but does not support 3G/4G network, does not support China Telecom card). Then plug to the USB port of the computer, the serial port driver of CH340 needs to be installed for the first time.
After the module is started, the indicator flashes every 1s, and it will flashes every 3s after a period of initialization which indicates the module starts to work normally. Then you can control the SIM800C module with the AT command.

1.1 Make a Call
Make a call: ATD189****3783;(Notice: semicolon; is needed!!!)
Hang up a call: ATH
Answer a call: ATA