SKU :LC-GSM-868
SIM868 DEVELOPMENT BOARD GSM/GPRS/BLUETOOTH/GPS Module
LC SIM868 module adopt a module introduced by SIMCOM company, with superior performance and small size SIM868 module, onboard MICRO SIM card deck, Reserve Headphone Microphone Welding Port . The antenna interface is IPEX-MINI interface, small size for easy connection to various antennas . onboard high DC-DC power module,support 5v-18v
Wide voltage power supply ,reserve the power enable port, which is convenient for controlling the power and reducing the power consumption of the development board. The main serial port has been level-matched and supports 3.3V 5V single-chip microcomputers or other control systems.
GSM GPRS GPS+Beidou function BT
Function :
1.support GPS、BD、GLO、LBS base station positioning, all-round positioning.
2:match RTC backup battery, support hot start and warm start, greatly enhance positioning speed .
3. Positioning data supports GPS independent serial port acquisition and configuration. More options and more convenience.
4. Positioning data also supports GSM serial port ,via AT Get and configure commands, will faster and easier.
5. Computer debugging video strikes strongly, let us master 868 function faster
5. Add a variety of single-chip computer programs, which greatly facilitates the rapid development of single-chip computers.
Module advantages
1. Rich interfaces, unified planning for common interfaces, integrated headphone interface, lead out by pin headers to save space
2. The power supply has an enable control pin, which can control the power switch, and can realize remote unmanned control.
3. Both the main serial port and GPS serial port have integrated level matching circuits, and the compatibility is very stable.
4, 2 status indicators, module status at a glance, simple and fast.
5. Antenna 50R impedance matching, the measured GSM signal can reach 31 full grid under strong environment.
6. Supports base station positioning, and can locate normally when the GPS signal is poor
7, the same quality, the same chip, our price is the lowest, the price have competitive then others.
Hardware introduction and description
Board size: 52 * 42mm
Weight: 12g
Board function physical diagram description: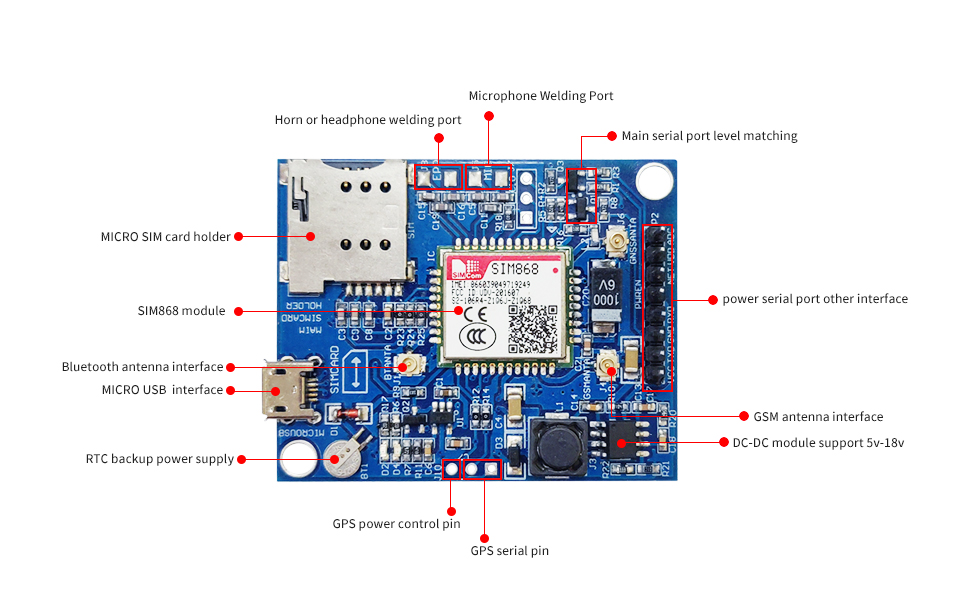 RTC backup power supply: Powers the RTC after the device is powered off.
GPS power control pin: Used to control whether there is power in the GPS part of the module to achieve power saving purpose.
GSM antenna interface: connected to GSM GPRS antenna,for IPX-MINI antenna interface.
DC-DC module: adopt MSP series high-reliability power chip, and the power enable pin is led out.
Main serial port and power pin: The serial port is compatible with 3.3V and 5V controllers, and supports mainstream MCU such as 51 STM32.
Active GPS antenna: Connect the GPS antenna. The antenna interface is IPX-MINI.
MICRO SIM card holder: In-line SIM card holder. When inserting the card, the SIM card has a gap facing outwards, which supports various mobile phone cards of China Unicom.
Microphone and microphone welding diagram is as follows: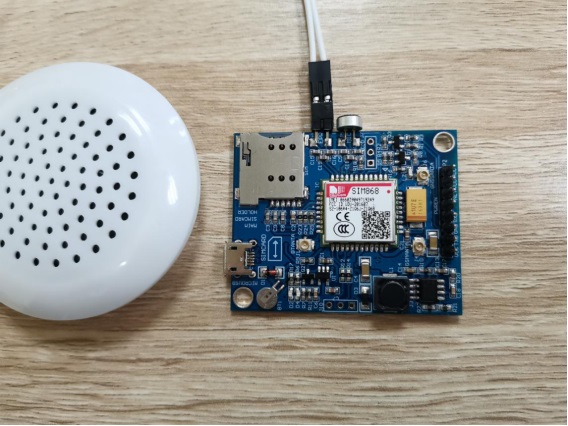 5V-18V power supply. When the supply voltage is 5V, the current must be 1.5A or more.
The MICRO USB interface is only used to upgrade the SIM868 module firmware and obtain SIM868 log information. It cannot be used to power or communicate with the board.