WCS1800 Hall current sensor detection 35A short circuit
Date:2019-07-25    Views: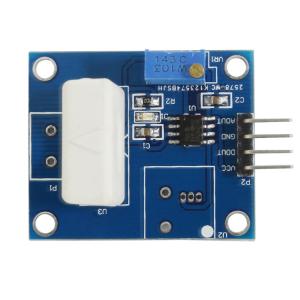 Overview
LC WCS1800 current sensor has two main functions, the first function is output an analog signal that can be used on A / D conversion; the second function is output a switch signal, and the over-current value can be set in advance. When the actual current value greater than the preset current value, the switch signal from low to high, and LED indicator. Easy to use.
1. Introduced the hardware and instructions
1, The working voltage: DC5V
2, The current detection range: DC: ± 35A; AC: 25A (for analog output);
3, Linearity: K = 60mV / A;
4, Limit current range: 0.5A - 35A (for the switch output);
5, With over-current signal indicator;
6, With mounting holes, easy to install on you device;
7, The sampling current convert to analog voltage signal output, can be connected to ADC; TTL level signal output, can be connected to the microcontroller's I/O .
8, The output signal is: analog voltage signal and switch signal.

2.Introduced the hardware and instructions
Board size: 49*26mm
Functions of the board:
1, interface description:
VCC: positive power supply;
DOUT: TTL high / low level switch signal output;
GND: power supply negative;
AOUT: analog voltage signal ;
2, AOUT instruction
VCC,GND connect to DC5V, and the being measured wire through the WCS1800's hole:
Analog output: V0= EQ F(Vcc,2) ±Ia*K(for WCS1800,K = 60mV / A)
3, DOUT instruction
VCC,GND connect to DC5V, and the being measured wire through the WCS1800's hole, setting the over current value by adjust the potentiometer,when the LED is on,it means the setting is done,and the DOUT pin will output a high level switch signal