Bluetooth relay module mobile phone bluetooth remote control
Date:2019-01-25    Views: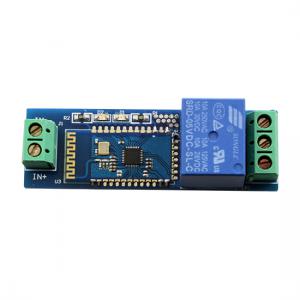 1. Summarize
LC 5v bluetooth relay module include single channel 5V/10A relay module and SPP-C bluetooth serial port slave module, Can be sent via mobile phone APP commands to control the relay switch.


2. Functional features
(1) Onboard SPP - C bluetooth serial port slave module, with wireless control function.
(2) Onboard 5 v, 10 A / 250 V AC 10 A / 30 V DC relay, relay long life can absorb 100000 times in a row.
(3) Module with diode effusion protection, short response time.
(4) Onboard bluetooth status indicator light (when not connected flash, slow
connection after long bright) and relay status indicator light .
(5) Control distance 10m (open environment)
Technical parameters:
Follow the bluetooth 2.1 + EDR specification
Module working voltage VCC: DC 5 v
DC control maximum voltage: DC 30 v
Exchange control maximum voltage: AC 250 v


3. Introduce of hardware
Size: 20mm*62mm


4. The basic function and instructions
IN + : DC 5 v power supply to the anode

IN - : DC 5 v power supply

COM: public side.

NO: relay normally open interface, relay and impending, before and after

absorption and COM sub

NC: relay normally closed interface, relay and with COM nipple, before and after

the impending
Basic instructions:
After wiring correct, using cellphone to search Bluetooth devices and connect, Pairing password is 1234,Input order and send by hexadecimal (when the Input order is A00101A2 open the relay , when the Input order is A00100A1 close the relay)
Note:
When Wiring NO NC COM:
Cann't access to any two port ,or will be short circuit.