This is our aliexpress store , Name :China Lctech Store
Link :https://www.aliexpress.com/store/5434130
Sku: LC-Relay-PLC-2R-5V
Overview:
Relay isolation drive control module, the core is electronic control devices relay,there are control system ( called input loop) and controlled system (called output loop), Essentially an "automatic switch" that uses a small current to control large currents. This design have output signal indicator prompt,adopt dual power supply selection and optocoupler design, enhance anti-interference and isolation performance. can be used for signal amplification of MCU ,PLC, industrial computer and other equipment.
The structural characteristics
1.Adopt HONGFA relay, performance are stable and reliable
2.Compatible with positive and negative control input modes
3.Each channel have one indicator prompt, More intuitive understanding of product performance.
4.Each channel adopt Optocoupler isolation, enhance anti-interference and isolation performance.
5. At the same time supply power and IN control terminal was independent control.
6. Module adopt standard "DIN"Rail mounting design, The installation is convenient, fast and stable.
Technical parameter
1.Trigger signal :DC 3.3V/5V/12/24V
2.Each channel trigger signal current :5mA
3.Supply of voltage :DC 5V/12/24V
4.Each channel Coil current :18.8mA
5.Trigger type :- normally open - normally closed
6.Each contact of maximum load current: 5mA
7.Action time :below 12ms
8.Reset time:below 4ms
9.Maximum switching frequency :18000
10.Mechanical life:More than 20 million times
11.Relay install:Plug-in (no)
12.Install of module way: DIN standard rail mounting

Hardware introduction and description
picture :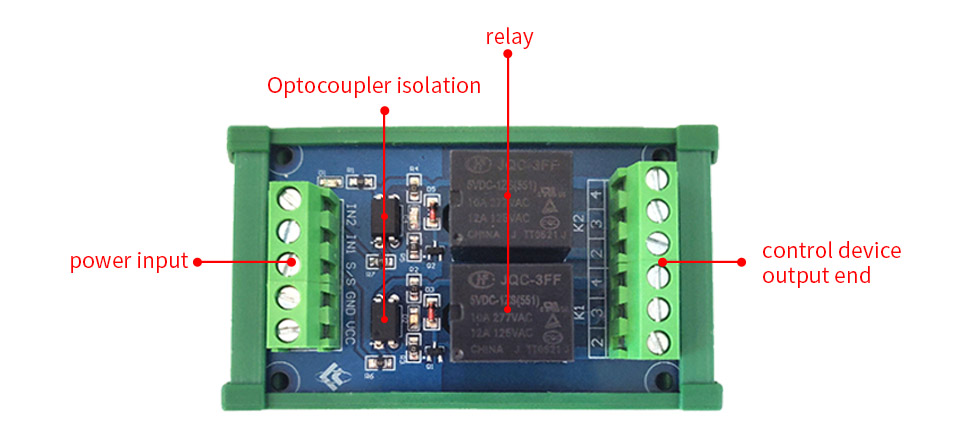 Positive control wiring introduction:
power input terminal : VCC connected to the positive voltage,GND connected to the negative voltage , S/S terminal connected to the positive voltage IN1,IN2 connected to negative voltage control ,INI control KI terminal .IN2 control K2 terminal.
2.control device output end :
on the output circuit board marked 234,3 Representing a common point,2 Representing normally open, 4 Representing normally close.K1 k2 Representing two channel relay working.