Infrared receiving and transmitting wifi Remote switch
Date:2019-11-25    Views:
SKU :LC-ESP-01M-IR
Overview:
LC ESP Infrared transmitting and receiving remote module,The esp-01m module with ESP8285 as the core be used as the master control, The program is the same as ESP8266. The module board is equipped with an infrared receiving tube and an infrared transmitting tube which are respectively io14 and io4 controlled, and a burning port is set apart.

Functional features
Send infrared related code, infrared library and programming environment construction process description,programming language arduino, The demonstration program can read and emit infrared key values and raw codes,you can record infrared remote controls in your home , which can be controlled remotely if connected to the Internet of things platform.
Provide a burning port (for communication and power supply), which can be connected with TTL download device。
Hardware introduction and description
Board size:23.4*23.4mm
weight:4g
Functional description of board: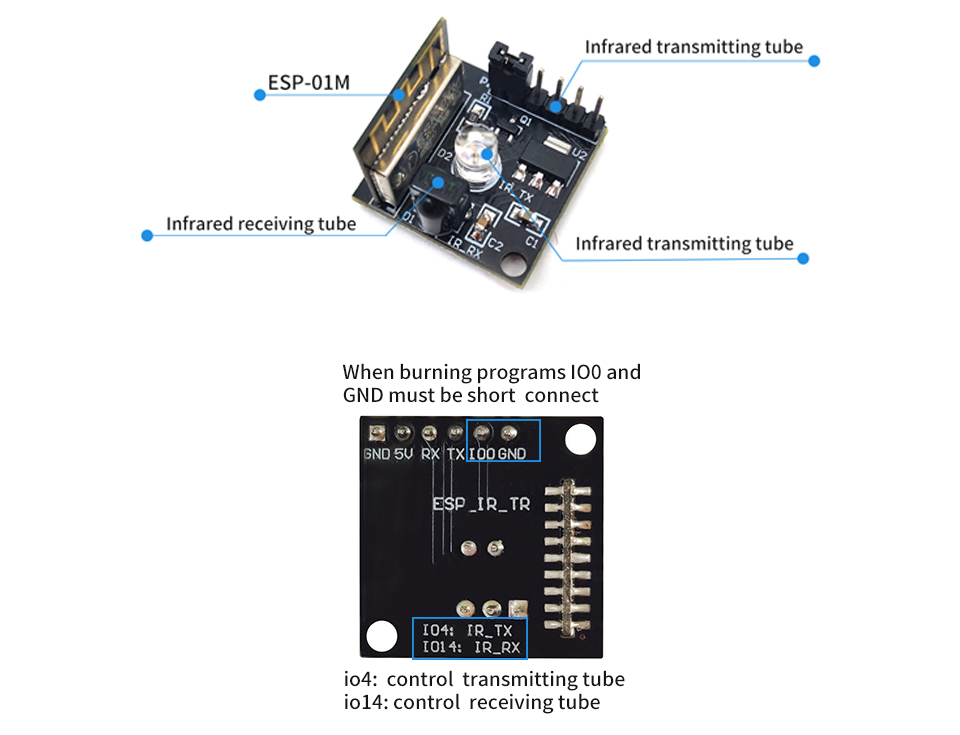 When burning programs IO0 and GND must be short connect
io4: control transmitting tube

io14: control receiving tube
with TTL Downloader connection
GND -------- GND
5V -------- 5V
RX --------- TX
TX --------- RX
When burning programs IO0 and GND must be short, and the module needs to be re-energized; After burning and recording, disconnect IO0 and GND and power on again, then the program can run normally.
Matters needing attention
Power supply needs to identify 5V and GND, the circuit is not anti - protection, connect the wrong will burn the chip.