Overview:
LC 2channel WIFI single fire line SCR module carry equipped with domestic famous manufacturers original WIFI module, use single fire line power supply technology , directly connected to the original switch control circuit then can use, support APP remote control,Google Home voice control and original wall switch control function. suitable for the modification and intelligentization of household appliance control circuits!

Function:
1.On-board smart IOT wifi module, simple configuration, function is powerful
2.Adopt single fire line power supply technology, no need neutral line,directly connected to the original wall switch control circuit then can use.
3.Support Ewelink mobile App to remote control through wifi and 4G /3G network.
4.Support Google Home and other Smart speaker voice control
5.Not affect the control of the original wall switch
6.Support timing,delay,sharing device and many control ways when use mobile App control.
7.Support switch statues real-time feedback when device and App both online.
8.Input voltage :AC 110-220V,output voltage :AC 110-220V
9.Number of channels: 2 channel ,Maximum load each channel :100W
10.Onboard wifi Configuration button and wifi status indicator,can use app remotely control when the light always light
11.Reserve WiFi module UART program programming port,support secondary development .
12.Send quick terminal, anti-light blink make refit More convenient,The circuit board is wrapped with an insulated heat shrinkable sleeve,silicon-controlled rectifier outfit heat sink,use Safe and reliable.
Introduced the hardware and instructions
board size :55*33mm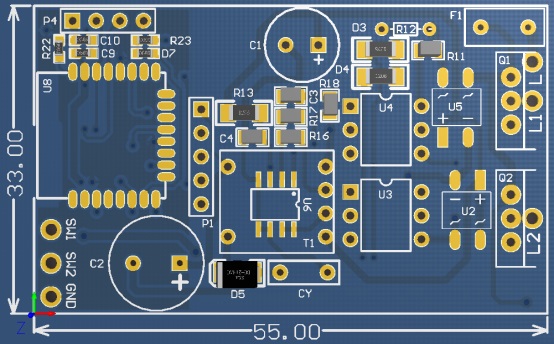 2..Interface description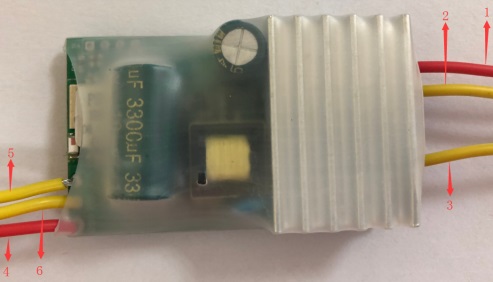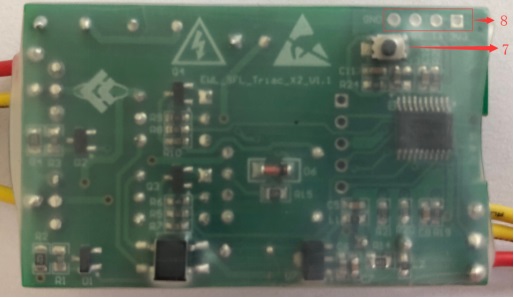 1. L: channel 1&channel 2 live wire common input terminal
2. L1: channel l live wire output terminal
3.L2: channel 2 live wire output terminal
4.L2: GND:channel 1&channel 2 Wall mechanical switch common input terminal
5.SW1:channel l Wall mechanical switch common output terminal
6.SW2:channel 2 Wall mechanical switch common output terminal
7.Network Configuration/ local switch button: Long Press keys above 7S until indicator flashing through APP set wifi account and password for the wifi switch , use for control channel 1 on/off when short press.
8. GND,RX,TX,3V3:ESP8285 WiFi module program burning port,Can use for secondary development firmware programming (in the firmware programmed process of the network configuration button need continue pressed on)
3. wiring guidelines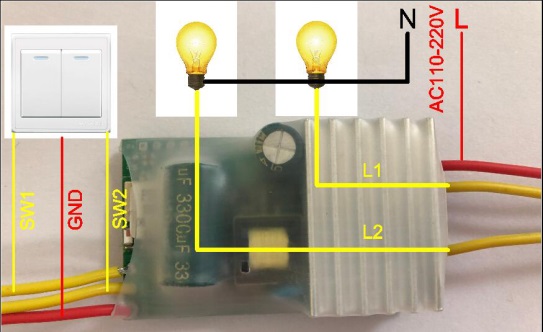 take the control of 2 incandescent lamps as an example:
mark: control other lamps (like :LED ), if light there are quick flash and wifi power supply not enough .In this situation , you can try to connect first light 's 2 ends (N and L1 ) bridge one CBB capacitance about 400V/105J.
4, description of use
4.1, APP control of use description
1. APP download and install : use mobile phone screen QR code as below or Search the"eWeLink"App on the Android/IOS market to download and install.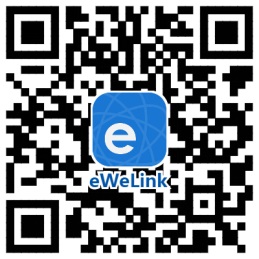 2.add equipment process
(1) Power on wifi switch . long press on network configuration button 7S until network indicator green light flash status as: quick flash twice,keep light ,flash twice,keep light .....cyclic alternation. Showing the module have entered the match network mode, then release the button .
(1) open Ewelink app ,click + button add device ,select quick add mode:
(2) input wifi account and password .
(3) searching device ,wait the network matching success.
(4) device add success .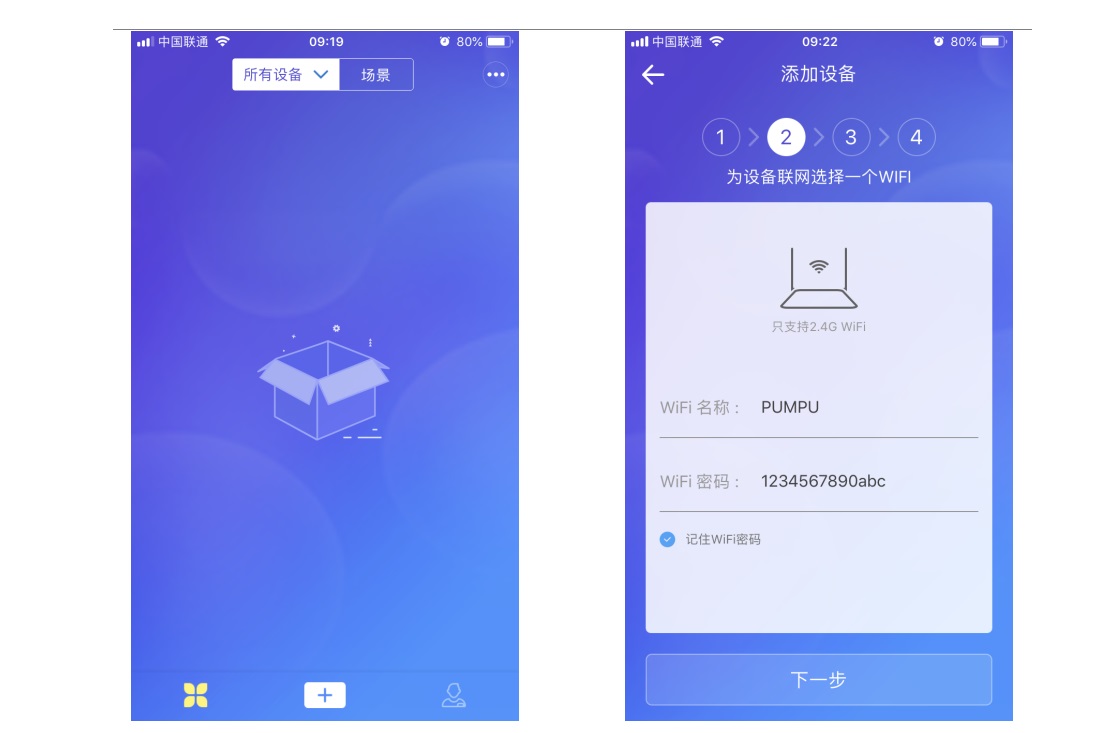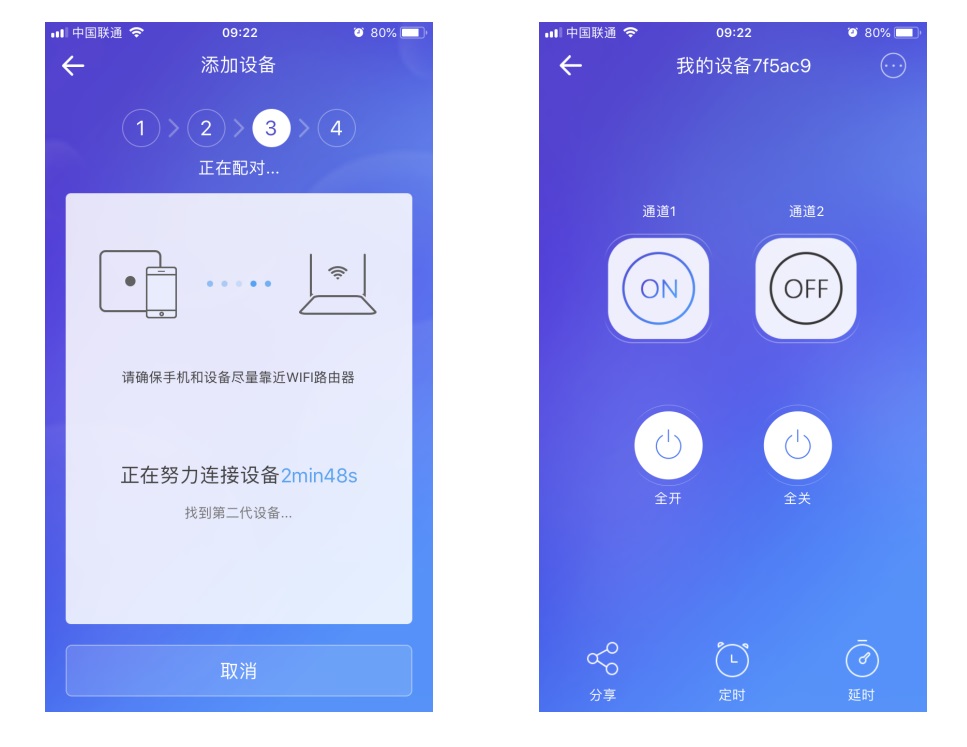 4.2 wall switch control description of use
This wifi switch not only support by mobile phone app control,but also support use machine button on the original wall switch. WIFI switch GND is common terminal, connect to 2 channel switch input terminal ,SW1 and SW2 connected to 2 channel switch output terminal , picture as below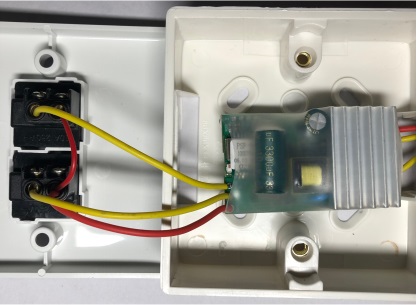 4.3 voice control description of use
Tianmao jingling,Google Home,Alex and smart speaker control ways refer this link as below:
http://ewelink.coolkit.cc/?p=55
Appendix: Description of Wi-Fi Status Light Blinking Mode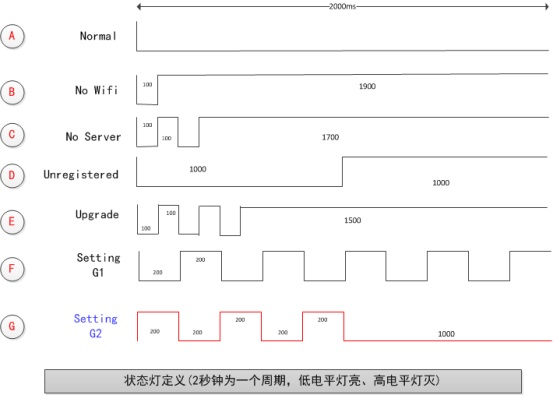 The cycle of the WIFI status LED is 2S,as the above pictures,the LED will on when the low level.
the LED will off when the high level. The details for each status as below:

A. Normal : the connection between the device and cloud service is ok and device is normally, you can control the device with APP. In any other modes, can't control device through APP .
B. No Wifi: the device can't connect to your router.
C. No Server:the device have connected to your router, but can't connect to the server (It's usually " can't go Internet")
D. Unregistered:Indicate that the device has not been bound to any account yet, normally ,The device needs to be bound to the ewelink CoolKit account to communicate with the cloud server.
Add device in ewelink APP, can finish to bound operation.
E. Upgrade: Indicate the device is updating firmware.
F. Setting G1:Indicate the WiFi module on the device in AP mode. This mode will help the device connect to the network ,such as obtain router ssid,password and IP . port number.etc.|
G. Setting G2:Indicate the WiFi module on the device in ESPTOUCH mode. This mode will help the device connect to the network ,such as obtain router ssid,password and IP ,port number.etc.|